Github objects to my Chrome extension
I got an email from Github today asking me to stop using their logo and the name GitHub in my Chrome extension. Considering the extension has been on the Chrome Web Store for three years prior to receiving this message, I'm not sure what has triggered it although I note that recently;
The extension surpassed 500 users and;
Never-the-less, I've renamed the extension; it's called Follow for Github now. See the new logo and the original email request below.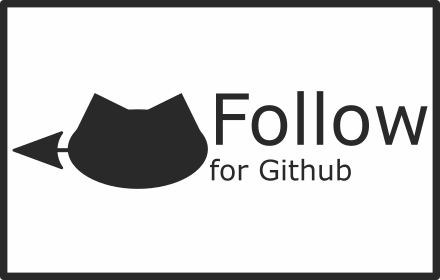 The email
I received this from GitHub Privacy (Github Staff) support@github.com;
Hi Stafford —

XXXXXX from GitHub here. Thank you for using GitHub and being a valued member of our community. We are pleased to see you taking advantage of the tools and resources available on GitHub. We have recently noticed, however, that you are using GitHub's name and logo on your Chrome browser extension named "GitHub Follow" (https://chrome.google.com/webstore/detail/github-follow/agalokjhnhheienloigiaoohgmjdpned) in such a way that might be confusing to people using your browser extension. This is a friendly request to ask you to make some simple changes to your application and listing to stop any potential confusion.

As I'm sure you can appreciate, GitHub relies on its trademarks (such as its name and logos) to signal to the public that products or services are "officially" made or authorized by GitHub. At the same time, we value the contributions made by our awesome community of users, and we recognize that users may want to use GitHub's name and logos to talk about GitHub, link back to GitHub, or promote tools that are built with or integrated with GitHub — all of which we enthusiastically support. In order to encourage these uses among the GitHub community, we make our logos available for download and provide guidelines on the proper ways to use them to strike the appropriate balance between these competing concerns. (See https://github.com/logos)

In this case, your uses of the "GitHub" name and logo are potentially confusing because they are presented as the name and icon for your application — at least on the listing in the Chrome Web Store, as shown in the attached screenshot. In particular, the project name, "GitHub Follow", makes the application sound as though it is sponsored by, endorsed by, or an official project of GitHub. Rather than use "GitHub" as an adjective, you may refer to GitHub in a relational phrase. For example, you could say that the project is "compatible with" or "for use with" GitHub or something along those lines. We also ask that you please modify the icon used for your application in order to make sure that there is no further confusion about its source or whether it is endorsed by GitHub. Once you have made the changes, kindly respond to let us know.

Please let us know if you have any questions. You may also refer to our logo usage guidelines (https://github.com/logos) for further guidance. Thanks in advance for your understanding.

Cheers, XXXXXX XXXXXX
Free stuff
After complying to their demands they offered me a free T-shirt from their store. I asked for stickers instead, and they came in the mail a week later.