A look back at NDC Sydney 2019
Last month I had the opportunity to both attend and speak at NDC Sydney 2019. NDC is a conference for Software Developers that occurred this year on 14-18 October with 2 days of workshops followed by 3 days of speakers. This year was the first time I have attended an NDC conference and the first time I was a speaker at a conference.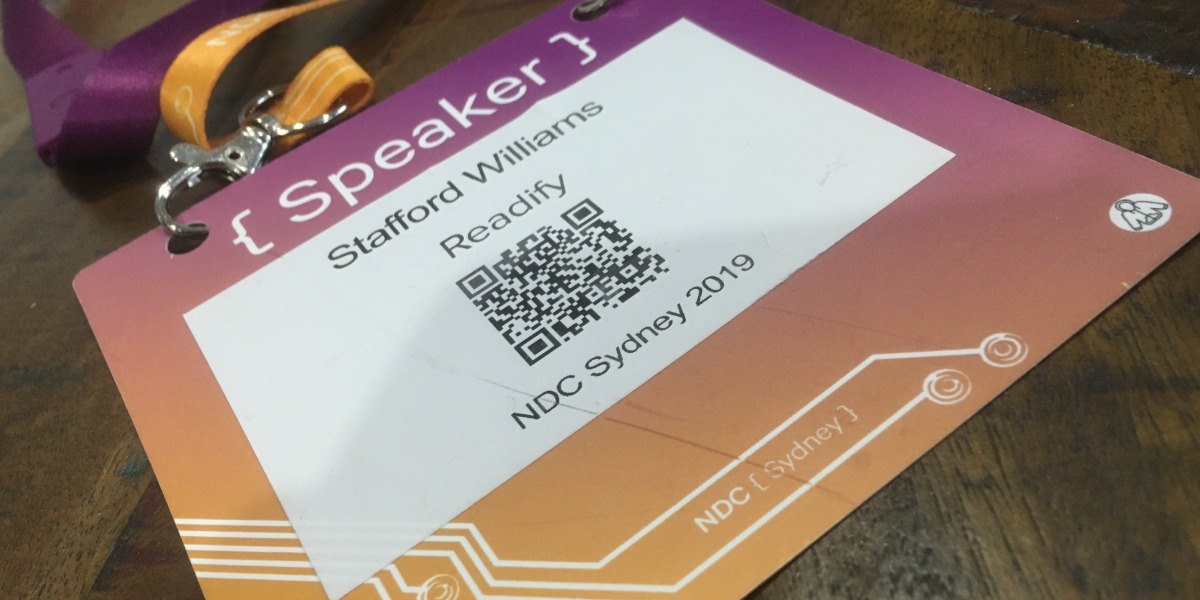 Overall I found the experience to be phenomenal due to it consisting heavily of learning a whole lot of stuff I didn't previously know and meeting a whole lot of strangers - most of whom were very intelligent people who could teach me more stuff I didn't know. My schedule was a full-on four days with talks starting each day at 9am and the first beers at 7pm, excluding any beverages that may have been consumed at lunch. The fourth day, Saturday, was for .NET Downunder Tour Sydney 2019, a free community event that included a number of Microsoft and other community speakers present (and not-present) at NDC.
I found the caliber of NDC speakers to be very high and felt privileged to be selected amongst the 100 or so speakers for the event. Nelly Sattari and I gave a presentation on Thousands of concurrent connections with Azure SignalR Service which for some part was hosted inside, but otherwise relied heavily on demos from, digitalicebreakers.com - thankfully the application stood up for the 40 or so present and connected.
SignalR talk at #NDCSydney by @nelly_sattari and @staff0rd -- super-cool engaging demos for all audience to participate in. WOW!! 🤯 pic.twitter.com/0ezQ2NpDfp

— Karel Zikmund @ Prague until 11/22 (@ziki_cz) October 17, 2019
Talks I saw in person
Huge turn out for @JamesNK on gRPC for https://t.co/5czivPaMhw Core at #ndcsydney pic.twitter.com/NEIfJJGUqN

— Stafford Williams (@staff0rd) October 16, 2019
At the back it's standing room only for @timcomport on Reverse Engineering a Classic Video Game at #ndcsydney pic.twitter.com/MJsJQqDUBo

— Stafford Williams (@staff0rd) October 18, 2019
Talks I missed
After-hours Schedule
A great aspect of the conference was meeting speakers and attendees after normal conference activities, mainly over beers and/or dinner and included the following:
.NET Downunder Tour 2019
After three days of NDC there was one more day of talks at .NET Downunder Tour 2019, a community-led event at no cost, hosted at the Microsoft Reactor. This one was a little more low-key, but was a great way to squeeze in some last minute learnings and a final round of beers before returning to my estranged wife after 4 days of geeking out. There were some new talks and a fantastic panel at the end with a bunch of Microsoft peeps that I'd met during NDC. A colleague of mine, Mouna Neelakanta, who was also one of the hosts of the event, did a terrific write up here - I encourage you to take a look.